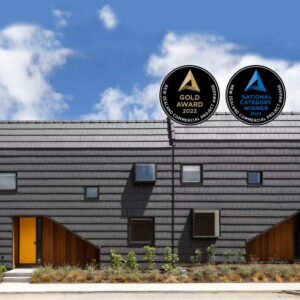 We are very proud that at the Commercial Project Awards in Christchurch our Kōtuitui stage 2 won the Residential Award for 2022.
Congratulations to Chancellor Construction and Avant Group.
Judges comments
This project was part two of the successful Kotuitui residential development. The vision for both developments exceeded expectations for creating something special within the community. Rather than a ""cookie-cutter"" approach, the team took a "first mover" approach and created a unique aesthetic. This included durable ceramic roof tiles that doubled as wall cladding, double-height dormers, and framed windows to give a welcoming look to the building. Key to the success which enabled them to hold tight to the vision, was the amount of detailed upfront investigation by Chancellor Construction and the team into the innovative areas.