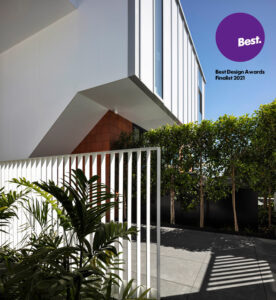 Light & Clay has been named a finalist for  the Best Awards 2021.
A steeply sloping site below the road facing north. The intention was to design a modest family home that maximised the sun and connections to the view while maintaining privacy. The idea was to re-interpret the traditional suburban home in a contemporary architecture that was memorable, exciting and had more than a nod to its context.
The home has four bedrooms, all of modest size. The architecture is a combination of cubic forms each clad in a unique material. The kitchen/dining area is largely glazed. The living area is clad in a terracotta tile, being 'a memory' of the existing brick building that was on the site. The rear bedroom-wing clad in the utilitarian, ubiquitous corrugated iron hovering above the ground on slender poles with a sculptural chute accessing the garden. And the main bedroom a translucent light box providing privacy, light, and interest, and again being a nod to the existing colours within the street.
An existing garage was located on the street. Entry to the new home is through a landscaped courtyard to the front entry – a sculptural arrival space with a dynamic exposed stair. The interiors unfold into a series of spaces and vistas.
The steep sloping site provided challenges and opportunities. The kitchen/dining/living area connects to a north facing private pool courtyard and views down to the landscape below on the southern side.
The home is seen as an expression of contemporary life.