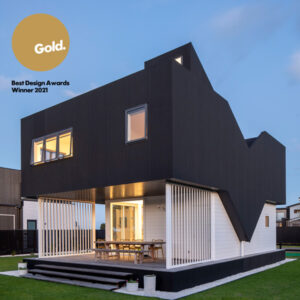 Shapeshifter has been awarded a GOLD at the Best Awards 2021!
An escape from a city apartment, the client was looking for a looser, more open space to spread out in a home well connected to the sun. A collector of sculpture and paintings, a sculptural home was the intent, providing an interesting and dynamic getaway, largely for a couple, but with the ability to expand, catering for gatherings of the extended family. The house was to be made of materials appropriate to the marine environment, requiring minimal maintenance, with a simplicity and robustness.

Situated at the Northern tip of the Omaha Peninsula this house sits boldly on a flat site within its semi-suburban context and looks out towards an estuary to the west. A habitable sculpture with a dynamic roof, a chevron delineating interior circulation, stairs, and a future roof terrace accessed with a high-level 'pop out' exit. Deliberately, there is no garaging- cars are ok in the elements! The interior spills out onto the lawn, with positioning to accommodate a 'tent city' on the section in Summer for family holidays. The material palette is pared back and robust. An artistic response expresses contrasting materiality and colour between base, middle and top.
Membrane roofing, traditionally used in roofing applications, wraps down as a cladding for the top floor. The tarry black membrane sits in contrast to the smooth white weatherboards below in colour, tradition, and texture.
The major moves of innovation are the materiality and the form. The use of roofing membrane as a dark and textured cladding floating atop a smooth traditional white weatherboard pacts a powerful punch upon arrival. The sculptural form reflecting the interior circulation creates dynamic ceiling volumes and an exciting sense of movement inside.